Hello and welcome to the Puppet Combo Wiki!
It is a wiki encyclopedia for everything about Puppet Combo's games and Torture Star games!
Anybody can help!
About Puppet Combo
Puppet Combo is an independent game studio, owned and operated by Ben Cocuzza. It's the replacement title for Ben's previous alias, "Pig Farmer Games", and is a trademark of Vague Scenario (Ben's publishing alias, and current business entity). The games developed are commonly known for incorporating concepts of 1980s "shot-on-video" slasher films. Most games are similar in gameplay and design.
Latest Game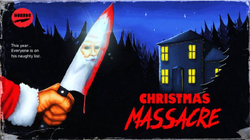 Christmas Massacre is a slasher horror game released on January 2021. You play as Larry and your Christmas Tree tells you to go stalk around the town to claim the "naughty" victims' lives.
Latest Published Game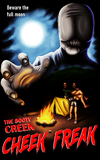 The Booty Creek Cheek Freak is a short SOV slasher horror game developed by Jordan King. You play as Connor (voiced by Kubz Scouts) who goes camping with his pal Gary. What seems to be a peaceful night of the full moon for them soon turns into a fight for survival when a killer known as the Cheek Freak starts terrorizing the place and will stop at nothing until he rips their cheeks...
Latest Novelization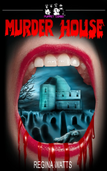 Murder House YA Novel is an official 2022 novelization of the 2020 survival horror game of the same name, written by Regina Watts. A Channel 9 news crew arrives at the abandoned home of a serial killer known as the Easter Ripper to shoot a story about him, until they find themselves trapped in his home and are forced to play Easter Ripper's deadly egg hunting game, while he hunts them. Who will survive?
Latest Physical Release
Feed Me Billy CD-ROM
"IT'S FEEDING TIME!" A flesh-eating hole has appeared in your closet. It's YOUR job to feed it. No matter what the cost… Terrorize the town on your sick quest for meat in this deranged serial killer simulator.
Limited run. Only 200 copies made
Extra features on the disc, including the soundtrack
Includes the DEMAKE
10 page manual
More at Puppet Combo Store
Media
Content
Twitter
Patreon
Support Puppet Combo on Patreon here!
Discord
Feel free to join the official Puppet Combo Discord server here!
Affiliations